June 12 2012
Larrisa McLaughlin has been making faces beautiful for years. As a professional make-up artist on the local scene, she's perfected the "glow" for so many, at almost every kind of occassion and event. 
One thing you'll notice right away when you meet Larissa – her "glow." She's stunning, and one would think it's due to her amazing make-up talents, and we're sure they play into it, but we also suspect it has a little something to do with her two beautiful children, Sean and Sydney. So cute!
Every mom is looking for the inside track on what it takes to maintain beautiful, healthy skin… Larissa gives us some of her personal tips. 
What are some of the key things you recommend to moms (and women) on how to care for their skin? 
I always recommend that women wash their face once in the morning and once at night (even if they don't wear makeup) and to always apply a moisturizer and sunscreen.  
My favorite cleanser is Cor.  It is a patented silver science facial bar that makes your face glow after one wash.  Made with all natural ingredients it's silver properties act as a natural antibacterial that helps heal skin, stop blemishes in it's tracks, and leave your skin feeling clean.  
My favorite moisturizer is Embryolisse Lait-Crème Concentrè (24-Hour Miracle Cream).  This moisturizer looks wonderful under makeup, great to use as a makeup remover, hydrates without feeling too heavy and even works great to reduce redness after shaving.  What's better is that it doesn't cost a fortune.  You can find it at http://www.embryolisseusa.com/products.
Always use a daily SPF 30.  
It's summer and everyone wants that "glow" – even if they are not expecting… What regimen and product would you recommend to achieve that summer glow? 
Again, the key to achieving that summer glow is to take care of your skin with cleansing and moisturizing.  Just because it is summer it doesn't mean that you should toss your makeup to the side.  Instead of using a heavy foundation try using a tinted moisturizer and a little bit of concealer for areas that need color correction such as under the eyes and any blemishes.  My favorite concealer and highlighter is Touche Eclat by Yves St. Laurent and my go to tinted moisturizer is Laura Mercier's Tinted Moisturizer with SPF 20.
Using a peach or pink color on the apples of the cheeks lends to a youthful glow.  
Follow that up with tinted lipgloss and mascara and you are good to go for a simple, glowing summer look.
What should every mom include in her beauty routine no matter how busy or tired? 
I think that if you can swing applying a concealer, a light blush, lipgloss, and mascara then you are good to go!
Can you give us an industry tip on how our busy moms can easily take their look from the playground to dinner with friends? 
Quick adjustments can take your look from day to night in a snap. During the day, skip eyeliner then apply a thin line to the top of your lids or both top and bottom for a more dramatic look. Working a darker shade of eyeshadow to the outer corner, crease or lash line of the eyelid adds a more nighttime look to your day wear.  Even something as simple as replacing that clear gloss for a bolder lip color (like M.A.C. Red) from MAC or a brighter pink would look great to amp up the look.  Keep in mind that if you go darker on the eyes, keep the lips simple and if you decide a bolder choice on the lip keep the eyes lighter.
What SPF and skincare lotion are your top picks? 
Embryolisse Lait-Crème Concentrè (24-Hour Miracle Cream) and my favorite sunscreen is the Pomegranate Oil-Free Sunblock SPF 30.  
What's is one beauty product every mom should stash in her diaper bag? 
That's tough because I love so many… I would have to say Rosie Jane's Lip Dew, or Armour Lip Gloss in any color.
You're favorite beauty of the moment beauty trend? 
Go bright and bold. I love a bright lip, but if you don't feel like being that bold a pop of nail color is a great alternative, and a hot trend for the summer.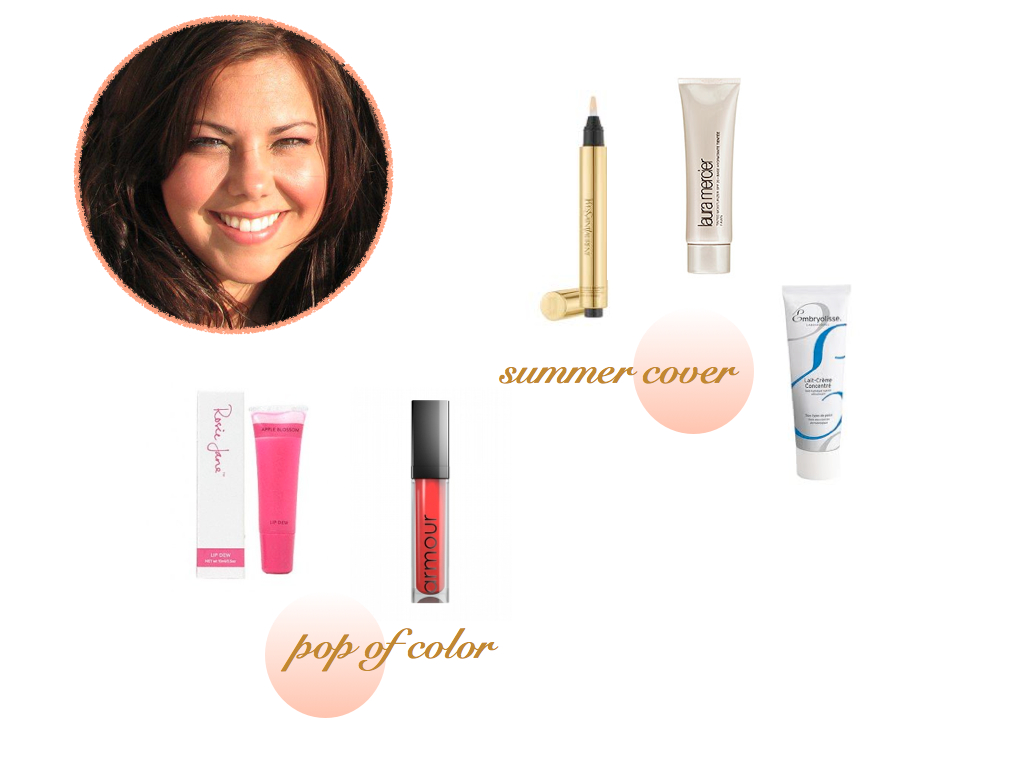 Comments