March 13 2014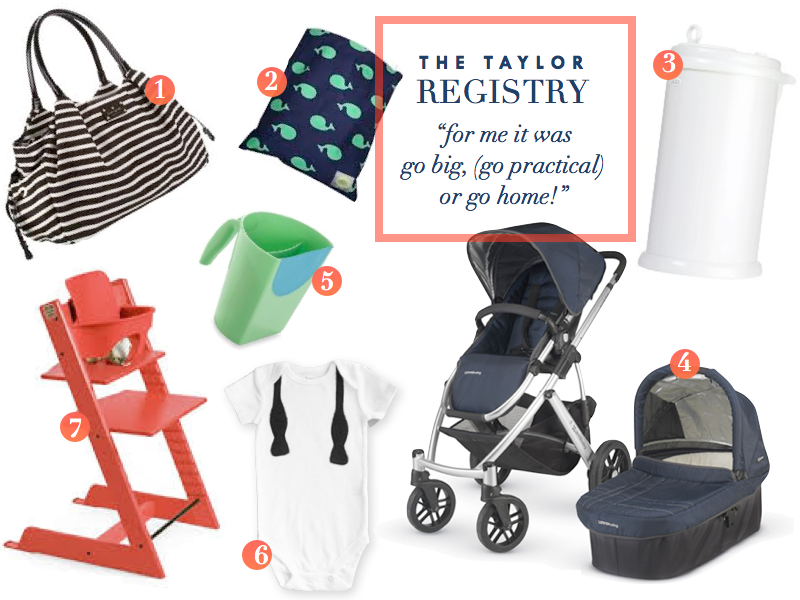 Planning a Baby Registry is no simple task. There's so much stuff and it's pretty easy to get caught up in the latest & greatest must-have everything. Truth is, there's things you need, and there's plenty of things to splurge on. Here's our latest "7 Top Registry Picks" guest curated by MOPA Mom, M. Taylor.
1. kate spade new york Stevie Diaper Bag: Moms need to look stylish too, right?
2. Itzy Ritz Wet Happened? Wet Storage Bag – Accidents are bound to happen, so why use a grocery plastic bag when you can use a preppy nautical bag to store the child's wet items in while avoiding a further mess? These also could be helpful to prevent small items like pacifiers, etc. from getting lost in a diaper bag.
3. Ubbi Diaper Pail – Again, the super sleek look of this pail is something we were attracted to in addition to the plus that it uses standard trash bags.
4. UPPAbaby Vista Stroller – In addition to many other bells and whistles, it includes a bassinet attachment that Baby Taylor can sleep in while he's snoozing in our room for the first few months. Also, the toddler seat will be helpful when he's older, along with the capability to turn it into a double (or triple) stroller for the future!
5. Shampoo Rinse Cup – I hated getting water in my eyes when my mom washed my hair as a child, so hopefully the water-tight seal on these cups will also prevent my child from being traumatized!
6. Untied Bow Tie Onesie – If an infant can't rock a suit, they should surely sport a tie, right?
7. Stokke Tripp Trapp High Chair – Love love love the modern look of this high chair as well as the fact there aren't a ton of nooks and crannies for stray food particles to get lost in. The bonus is that it holds up to 300 pounds, so it will continue to work when the child grows. Gotta love practicality… especially when it looks good too!

What is/was your No.1 Registry Must-Have? Share in the comment below!
Comments are closed.