March 29 2012
Every mom loves a onesie; be it for function or comfort, onesies are an absolute nursery necessity. So when MoPa was given the opportunity to review onesies from local New Bedford artist, Shelley Cardoos, we were excited to check them out. 
These 100% cotton and totally original onesies are super soft, and feature quintessential New England inspired phrases. Prints include: Mais Fica, a Portuguese saying which translates into 'more for me,' and, Linguica and Coffee Milk. They are cute and delicious. 
Priced at a mere $15 a piece, sized for babies between ages 6 – 18 months, and available through Shelley's Esty site, (http://www.etsy.com/shop/shelleyCdesigns), these locally inspired onesies add just enough edge to your little one's wardrobe or baby shower gift. 
MoPa is giving one lucky Facebook follower this set of onsies. We'll announce the winner, Tuesday, April 3rd.
All MoPa Facebook Page fans are eligible to win.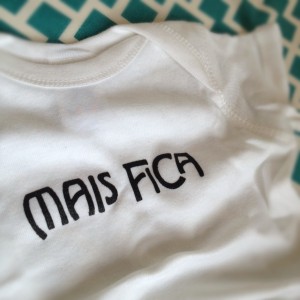 Comments are closed.