November 12 2013
Katie Workman, of the Mom 100 Blog and Cookbook, is often asked how soon kids can help in the kitchen. You've probably heard this one too and the answer is now. Katie (and I) mean, right now  – for the holidays, no matter how young or old.
As you prepare Thanksgiving dinner, make brunch for camped out family, serve snacks for football games, or bake holiday cookies, the kids, grandkids, nieces and nephews can be in the kitchen too.  The benefits and memories to them joining in  the making of a family meal are extraordinary. 
Let's break it down a little bit more by age & task:
Kids 3-5:
Pour, dump, stir and sprinkle ingredients and spices you have gathered together.
Whisk the eggs for breakfast.
Wash the potatoes with a scrub bruch or scrub gloves for little fingers.
Take out the pots, pans, measuring cups, and bowls you need.
Kids 5-7:
Cut soft vegetables with kid-safe knives like ones from Zyliss or Curious Chef.
Knead bread or roll the dough for pie crust
Cut out cookies
Kids 7-9
Start working lessons on math and chemistry at this point.  And if you don't know the answer to some questions – get them on the computer looking it up!  What does baking soda do to a recipe?  What is the difference between unsweetened and semi-sweet chocolate?  Why does flour thicken the gravy?
But if the idea of getting them in the kitchen during the thick of it is too much – there is a lot more they can do to help and get involved: 
Make a menu on an easel or for each place setting
Make a cornucopia for the table centerpiece
Take guests coats
Pass out canapes on a plastic tray
Take drink orders (they love this!)
Take photos – imagine the narrative your photos will tell when taken from their perspective!  It will be the best holiday recap you've had
And help with CLEAN UP
Giveaway & Recipe.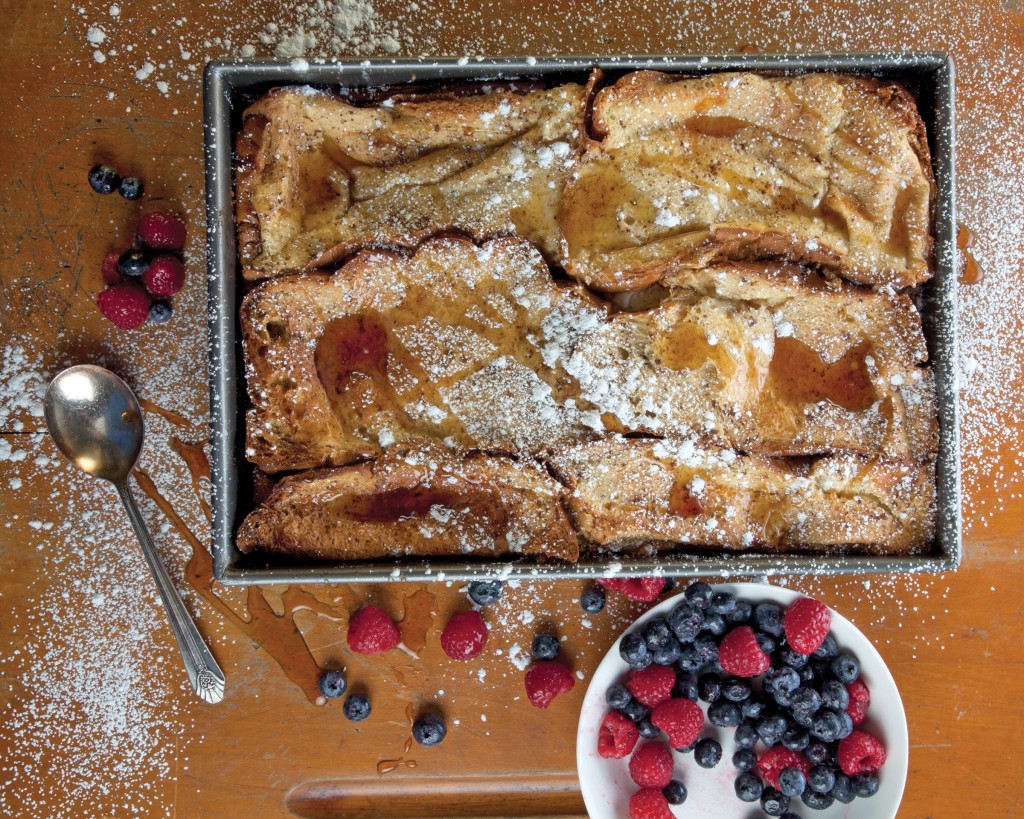 Lazy Oven French Toast 
What the Kids Can Do: They can help put together pretty much the whole French toast, although you'll have to decide if they are old enough to help slice the bread. Kids can also pick and choose whatever dried fruits or nuts they like to go in the casserole.
Butter or nonstick cooking spray, for greasing the baking dish
4 cups milk
6 large eggs
2 tablespoons granulated sugar
2 tablespoons maple syrup, plus more maple syrup for serving (optional)
1 teaspoon pure vanilla extract
1⁄2 teaspoon ground cinnamon
1⁄2 teaspoon kosher or coarse salt
1 large loaf challah bread, preferably slightly stale, sliced 3⁄4 to 1 inch thick (see the Cooking Tip)
3⁄4 cup whole raisins, chopped dried fruit, or chopped nuts (optional)
Fresh fruit such as berries, sliced peaches or pears, and/or confectioners' sugar, for serving
Method:
Grease a 13 by 9–inch baking dish with butter or spray it with cooking spray.

Place the milk, eggs, sugar, maple syrup, vanilla, cinnamon, and salt in a medium-size bowl and whisk to mix well. Set the milk mixture aside.

 Arrange half of the slices of bread in the prepared baking dish, cutting the bread so that it fits in a solid layer. Pour half of the milk mixture over the bread, then evenly distribute about half of any dried fruit or nuts, if using, on top.

Repeat, creating a second layer of bread and then pouring the rest of the milk mixture on top and distributing the rest of the fruit or nuts over the bread. Lightly press the bread down into the liquid.

 

Cover the baking dish with plastic wrap and refrigerate it overnight. The bread will have absorbed almost all of the milk mixture. Uncover the baking dish and if there are dryer looking pieces on top, take them off and carefully tuck them underneath the bread on the bottom so that the more milk-soaked pieces are now on top (this is messy but it all works out in the baking). Note that any dried fruit sitting on the top of the French toast will get pretty chewy when baked and nuts on top will get toasty; the fruit and nuts that are tucked into the French toast will be softer, so disperse the fruit and nuts as you see fit.

Preheat the oven to 425°F

Bake the French toast, uncovered, until it is puffed and golden, 30 to 35 minutes.

Let the French toast sit for 5 minutes to firm up a bit, 

then cut it into squares and serve it hot with your choice 

of maple syrup, fresh fruit, and/or confectioners' sugar.
We've partnered with Katie of MOM 100 to GIVE AWAY one copy of her latest book, MOM 100 Cookbook. One lucky winner will be chosen. See details below:
PRIZE: MOM 100 Cookbook by Katie Workman 
NUMBER OF WINNERS: One
TO ENTER: A few easy ways to enter. Use the widget below.
WINNER ANNOUNCEMENT: The winner will be chosen and announced here on the blog on November 19! Winner must contact Denell at denell@mopaliving.com by October 22 by midnight EST or a new winner will be drawn.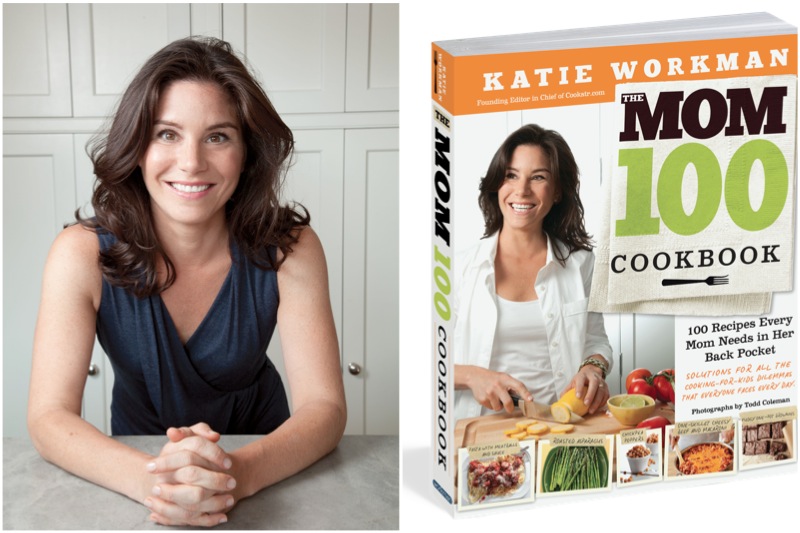 Comments