May 15 2013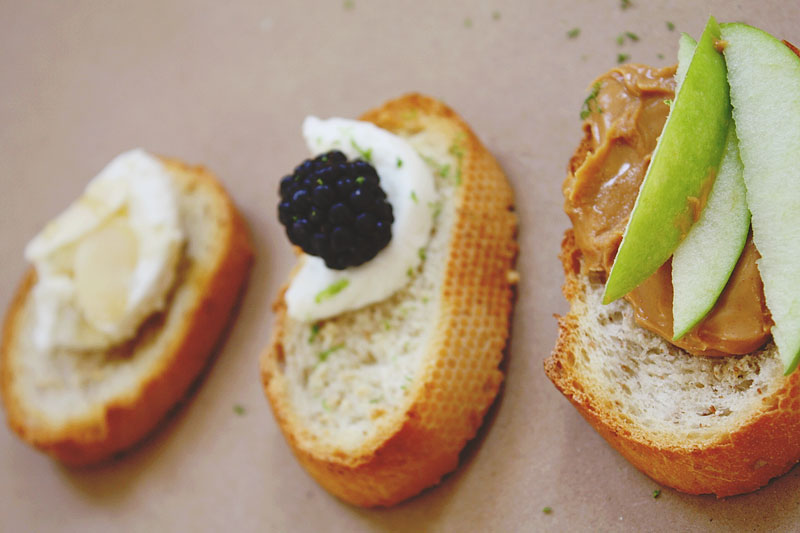 Cute Crostini.
It's been said that crostini or bruschetta is an overrated appetizer. Here at home, these little bread bites are on high rotation. What I love about the open faced mini sandwich? Endless flavor combinations which makes serving picky eaters a bit easier. Another bonus: the kids can get in on the culinary fun because they are perfect for little hands. Oh, and when it comes to entertaining – skip the freezer section and offer up these instead! Feeling warm and fuzzy about crostini all of sudden? Excellent; my work is done.
On our Small Plate:
Honey Nut: Soft cheese (cream cheese variety), almonds, drizzle of honey
Berry & Lime: Berry, goat cheese, fresh lime zest
Apple Butter: Almond or peanut butter, sliced apples
How to Crostini: Purchase yourself a lovely baguette, the one you see here is whole wheat. Cut (on a bias if you want to get fancy), then toast in the oven until they are golden brown. Watch them close – you don't want it too crispy. Next up – gather an assortment of fresh toppings – sweet AND savory! Offer spreading utensils, plates, and napkins and get creative.
Toppings we love: mozzarella, tomato, olive oil & herbs (think mini pizza), goat cheese, carmalized onions, hazelnut spread, nuts, orange segments, berries, ham, cream cheese, pineapple, jam, beef, horseradish spread, hummus, olives… and this deliciousness goes on and on.
-Denell
Comments are closed.