November 26 2013
The holidays are right around the corner, and it's the perfect time to commit to creating a holiday season that's good for the planet, your pocket book, and most importantly, your health. Don't know where to begin? Start simple.
Throw 'No Frills' Festivities
I love entertaining and creating an atmosphere that's memorable and makes guests feel cozy and comfortable. Over the last few years I've learned that it's not extravagant decorations and fancy recipes that make a party – it's the company. In past holidays, I've entertained beyond my means trying to make my house mirror the pages of Pottery Barn. The reality is that my guests didn't remember my $200 mantle display. What they remembered were the laughs, conversation, and deliciously simple bites and spirits. A warm fire, candles, good music…simple touches that most people already have on hand, create just as inviting of a gathering than overly priced tableware. Remember, the holidays are for sharing. Instead of throwing a party and carrying all the weight of preparations on your shoulders, host a Pot Luck and have your guests help create the celebration. Invite guests over early and enjoy decorating together. Even more simple than that; skip dinner altogether and just serve apps and cocktails.
Think Outside the Gift Box
While the holidays are certainly a time to give and show the people you love just how much you appreciate them; gifts shouldn't overwhelm your time, wallet, or the environment. Homemade gifts, gifts of time or experience, and gifts of charity can demonstrate just as much love and appreciation as a pricey mall purchase, and are often much more memorable and a lot less stressful.
Celebrate to Contentment
With the holidays come parties, meals, and other activities that put us in the position to splurge. It's no coincidence that I usually get a spike in new yoga students right after the New Year. In yoga, we often talk about finding santosa or contentment in all life experiences. The holidays present a perfect opportunity to remember the importance of santosa. This holiday season ask yourself – have you eaten to contentment or have you stuffed yourself? Have you shopped to contentment or have you burned a hold in your wallet? This holiday season celebrate to your true contentment.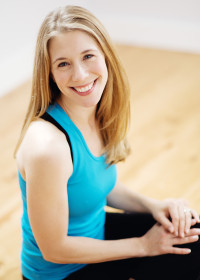 Jennifer Downing is a certified Hatha yoga teacher and co-owner of be yoga. She currently teaches from her studio, The Nook, in Acushnet, Massachusetts. For more information, visit her at beyoubeyoga.com.
Comments are closed.